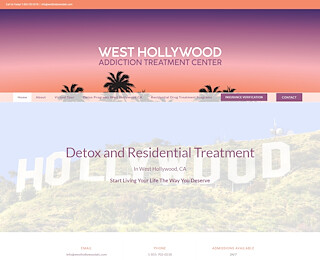 As a heroin addiction victim, coming to our detox center in West Hollywood will change your life forever. West Hollywood Addiction Treatment Center is a safe haven for individuals who struggle with drug and alcohol addiction and seek a safe, comfortable, and reliable way out. Here's what you need to ensure the success of the detox procedure and embrace a lifetime of sobriety, freedom, and fulfillment:
Acceptance and surrender
Only once you've accepted your problem, along with the inevitable solution, will you be able to find your peace and get the most out of your treatment. We encourage patients to surrender and leave their place of anger, shame, and fear and come towards a brighter and more positive one. We have a team of expert rehab clinicians and counselors who will guide you through your feelings and emotions, helping you gear up for the life-saving treatment.
It's also important to surrender to the events to follow with a clear mind and an open heart. Our West Hollywood drug rehabilitation treatment is your best chance at a stable, sober, and healthy lifestyle post-addiction; embrace it, and your life will change forever!
Trust in the rehab team
Our Hollywood drug rehab and treatment's effectiveness depends on your confidence and trust in our rehab experts and recovery programs. People who begin the treatment with confidence and an open mind always end up better than the skeptic ones. If you're ready for our Hollywood drug rehab and nearby alcohol rehabs, we advise you to maintain that attitude for the entire treatment's duration.
Our rehab professionals are experienced in dealing with alcohol, opioids, cocaine, and heroin addiction, to name a few substances, and you can rely on their expertise and professionalism. Learning to trust other people will also help you after completing the rehab treatment when reintegrating into society again.
Have a plan
The residential treatment will not last forever. Once it completes, you will need a plan to follow regarding work, education, career, family, etc. Only you know what you want in life and what makes you happy, or maybe you don't, and we're here to help you find out. Whatever the case, a long-term post-rehab plan will give you confidence and energy to fight for a better future for you and all your loved ones.
Unbreakable determination
We know that the rehabilitation process will come with its ups and downs. You will have moments when you'll want to quit, and you will encounter these moments even later on in life. How you react in moments of weakness will define your life over the years. Hold strong, show character, and don't give up your newfound life values, and relapse will never be an issue.
If you seek the best detox center in West Hollywood, we invite you to our facility today. West Hollywood Addiction Treatment Center has the best treatment for heroin addiction and other substance-related conditions. Call our experts at 855-969-9234, make an appointment, and come in for intake and detox today.
West Hollywood ATC
855-622-6723
9024 Harratt St.
West Hollywood
CA
90069
US